Climate change: Young people very worried - survey
By Roger Harrabin BBC environment analyst
Published14 September 2021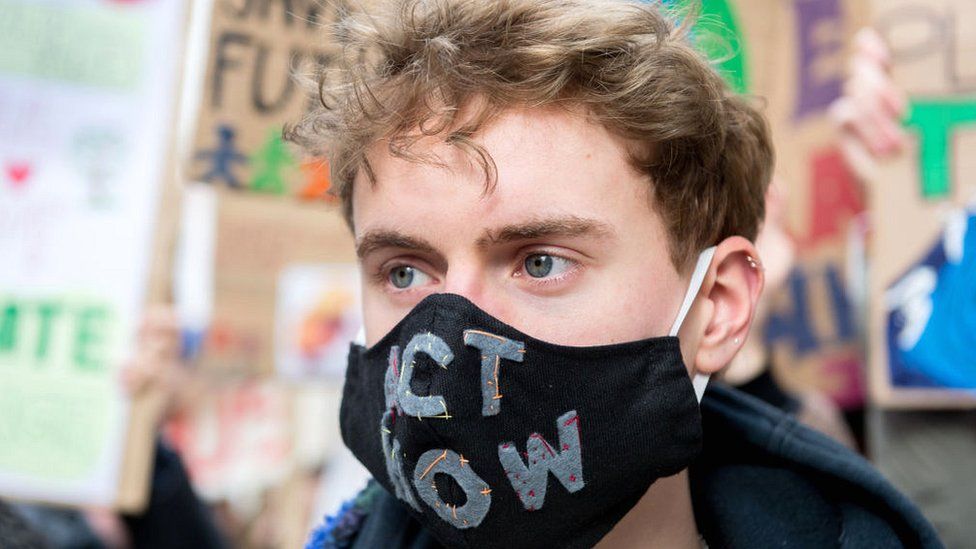 powerless: unable to control or influence something


humanity: humans considered as a group; the quality of treating humans and animals in a way that respects their right



catastrophe

: an event that causes widespread harm or destruction



underscore

:

to emphasize or show how important something is
A new global survey illustrates the depth of anxiety many young people are feeling about climate change. Nearly 60% of young people approached said they felt very worried or extremely worried.
More than 45% of those questioned said feelings about the climate affected their daily lives. Three-quarters of them said they thought the future was frightening. Over half (56%) say they think humanity is doomed.
Two-thirds reported feeling sad, afraid and anxious. Many felt fear, anger, despair, grief and shame – as well as hope. One 16-year-old said: "It's different for young people – for us, the destruction of the planet is personal."
The survey across 10 countries was led by Bath University in collaboration with five universities. It's funded by the campaign and research group Avaaz. It claims to be the biggest of its kind, with responses from 10,000 people aged between 16 and 25.
Many of those questioned perceive that they have no future, that humanity is doomed, and that governments are failing to respond adequately. Many feel betrayed, ignored and abandoned by politicians and adults. The authors say the young are confused by governments' failure to act. They say environmental fears are "profoundly affecting huge numbers of young people".
Chronic stress over climate change, they maintain, is increasing the risk of mental and physical problems. And if severe weather events worsen, mental health impacts will follow. The report says young people are especially affected by climate fears because they are developing psychologically, socially and physically.
What are your thoughts on the findings of this study?


Do you find it surprising that 60% of young people worry about climate change?


Do you feel sad, afraid, angry, or guilty when you think about climate change?



Do you think governments are doing enough to prevent a climate catastrophe
Exercise 4 Further Discussion
Do you know anyone who isn't worried about climate change?


What do you imagine would happen if global warming is not stopped?


Are most young people in your country interested in politics and world issues?



What were your hobbies and interests when you were 16 years old?
新しい世界的な調査は、多くの若者が気候変動に対して抱いている不安の深さを物語っています。調査に参加した若者の60%近くが、「とても心配だ」または「非常に心配だ」と回答しています。
また、45%以上の人が、気候に関する感情が日常生活に影響を及ぼすと回答しています。4分の3が「未来は恐ろしいと思う」と回答。半数以上(56%)が、人類は滅亡すると思うと答えています。
3分の2が、悲しい、怖い、不安だと感じていると回答しています。多くの人が、恐怖、怒り、絶望、悲しみ、恥ずかしさ、そして希望を感じています。ある16歳の女の子はこう言いました、「若者にとって、地球の破壊は個人的なことなのです」。
10カ国にわたるこの調査は、バース大学が中心となり、5つの大学の協力のもとで行われました。この調査は、キャンペーン・リサーチグループのAvaazが資金を提供したものです。16歳から25歳の1万人から回答を得ており、この種の調査としては最大規模だとしています。
回答者の多くは、自分には未来がない、人類は滅亡する、政府は適切な対応をしてくれないと認識しています。政治家や大人たちから裏切られ、無視され、見捨てられたと感じている人が多いです。著者らは、若者は政府が行動を起こさないことに困惑していて、環境に対する不安は、「膨大な数の若者に大きな影響を与えている」、と言っています。
気候変動に対する慢性的なストレスが、精神的・肉体的な問題のリスクを高めているのだ、と彼らは主張しています。そして、厳しい気象現象が悪化すれば、精神衛生上の影響も出てくるでしょう。報告書によると、若者は心理的、社会的、身体的に成長しているため、特に気候変動への恐怖の影響を受けているとのことです。