Thousands left homeless and hungry at Christmas as Philippines faces up to climate crisis reality of super typhoon
By Erwin M. Mascariñas and Rhea Mogul, CNN
Updated 0232 GMT (1032 HKT) December 28, 2021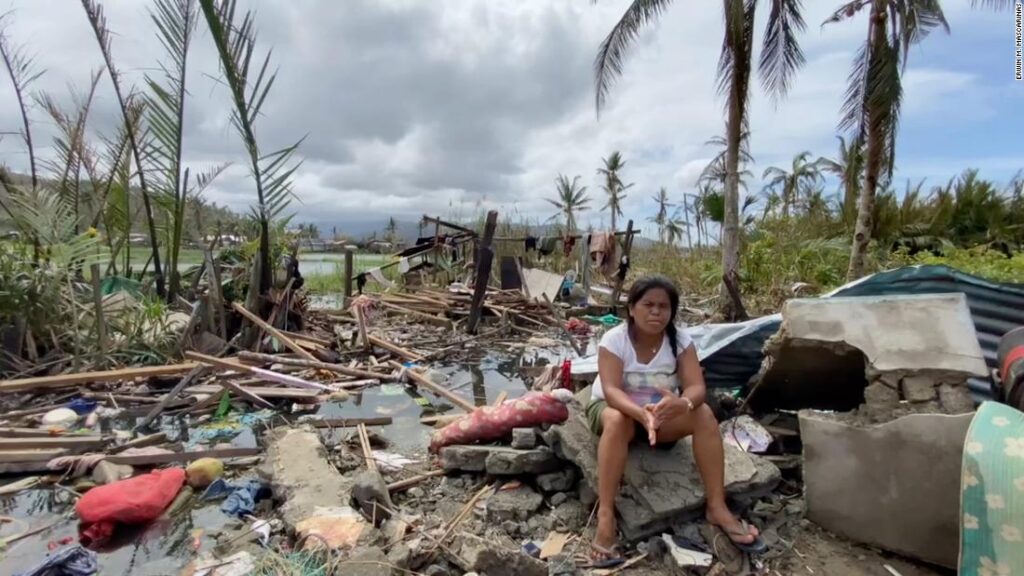 rubble: A loose mass of angular fragments of rock or masonry crumbled by natural or human forces.
slam: To collide with someone or something in a very forceful or violent manner.
displace: To move, shift, or force from the usual place or position
vulnerable: Susceptible to physical harm or damage
Usually, Jay Lacia wakes at midnight on Christmas Day to start the festivities — but this year, all he wished for was enough food to eat. "We always celebrated Christmas, but for now, it's too hard," the 27-year-old father of one said, as he sat among rubble in the typhoon-hit city of Surigao, at the northeastern tip of Mindanao in the Philippines.
Broken wood, scraps of metal, and plastic waste line the shore, where an exhausted stray dog sleeps. The stench of waste and dead fish engulf the air.
More than a week after Super Typhoon Rai — known locally as Odette — slammed into the Philippines, Lacia has given up trying to salvage whatever is left of his home. Not a single house stands anymore in his village on nearby Dinagat Island.
"Everything was gone, including my house," Lacia said. "The roof, and any wood that we built with, was gone."
Nobody expected the wrath Rai would unleash when it struck the archipelago on December 16. It was the strongest typhoon to hit the Philippines this year, killing nearly 400 people, while displacing hundreds of thousands more.
The Philippines experiences several typhoons a year, but the climate crisis has caused storms to become more unpredictable and extreme — while leaving the nation's poorest most vulnerable.
Families like Lacia's lost everything. And now, they face the nearly impossible task of rebuilding their homes without enough food to eat or water to drink.
1. Please express what you thought about the article.
2. How did you spend your Christmas day last year?
3. Have you ever been affected by a natural disaster?
4. What measures do you take against natural disasters?
Exercise 4 Further Discussion
1. What do you know about effective ways to stop climate change?
2. Is there anything you are doing to help stop climate change?
3. What social issues are you most interested in?
4.Why?
フィリピンは超大型台風による気候危機の現実に直面し、数千人がクリスマスにホームレスと空腹を余儀なくされた。
フィリピン・スリガオ市(CNN)例年なら、ジェイ・ラシアはクリスマスの夜中に起きて祭りを始める–しかし、今年は食べるものが十分にあればと願うだけだった。
「いつもクリスマスを祝っていたが、今は辛すぎる」と、27歳の一児の父は、台風の被害を受けたフィリピン、ミンダナオ島の北東端にあるスリガオ市の瓦礫の中に座りながら言った。
壊れた木材、金属くず、プラスチック廃棄物が海岸に並び、疲れ果てた野良犬が眠っている。ゴミと死んだ魚の臭いが充満している。
超大型台風「ライ」(地元では「オデット」と呼ばれている)がフィリピンに上陸してから1週間以上が経過し、ラシアは自分の家に残っているものをすべて救い出すことをあきらめた。ディナガット島の近くにある彼の村には、もう家が一軒も建っていない。
「私の家も含めて、すべてがなくなってしまったのです」とラシアは言った。「屋根も、建てた木も、全部なくなってしまった」。
12月16日にライが列島を襲ったとき、誰もこれほどの怒りを爆発させるとは予想していなかった。ライは今年フィリピンを襲った台風の中で最も強いもので、400人近くが死亡し、数十万人が避難している。
フィリピンでは年に数回台風が発生しますが、気候変動の影響により、嵐はより予測不可能で極端になり、フィリピンの最貧層は最も被害を受けやすくなっています。
ラシアのような家族はすべてを失いました。そして今、彼らは食べるものも飲む水も十分にないまま、家を再建するというほとんど不可能な仕事に直面しています。